Easy Riders: Bikers Should Consider Safety and Insurance
With the arrival of summer, more motorcycle riders will be climbing on their bikes for commuting, running errands, weekend fun, or a vacation road trip. Before revving your engine, it's important to learn how to safely operate a motorcycle and make sure you have appropriate insurance coverage.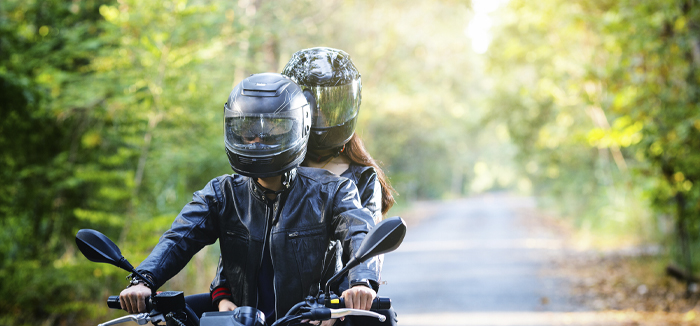 Safer Cruising
There's no way around the fact that riding a motorcycle can be dangerous. Sadly, more than 5,000 motorcyclists died in crashes in 2019, and about 84,000 more were injured.1 Motorcycles are simply less crashworthy than closed vehicles. Here are some important safety tips to keep in mind.
Always wear a brain bucket. It's estimated that motorcycle helmets saved 1,872 lives in 2017 (most recent data), yet almost 30% of riders don't take advantage of this important form of protection.2
Dress the part. Wear protective gear such as a riding suit or motorcycle jacket, face shield, goggles, gloves, and boots. Bright colors or reflective tape may help increase visibility.
Don't drink and ride. In 2019, about 29% of motorcycle riders killed in traffic crashes had alcohol levels above the legal limit, and an additional 7% of riders killed had lower alcohol levels.3
Control the need for speed. One out of three motorcycle riders involved in fatal crashes in 2019 was speeding.4
Learn to ride well. Completing a motorcycle training course could help strengthen your skills and might even earn you a discount on your insurance policy.
Covering Your Ride
Most states have minimum liability coverage requirements similar to those for automobiles, but owners of expensive motorcycles might want additional coverage to help protect their investment. Each of the following policies typically pays for covered expenses (up to policy limits) and may be subject to certain deductibles and exclusions.
Liability insurance. This coverage helps pay for injuries and property damage that you may cause to others in the event of an accident. Liability insurance does not cover damage to your own vehicle.
Guest passenger liability. Standard liability insurance may not include coverage for a guest passenger. If your standard coverage does not, consider purchasing passenger liability coverage separately.
Collision coverage. This helps pay for damage to your bike (minus your deductible) if you are involved in a wreck with another vehicle or a stationary object. Damage involving wildlife is also covered.
Comprehensive insurance. This coverage pays for damage resulting from events other than collisions, such as fire and theft.
Coverage for optional equipment. If you have special upgrades or accessories such as a side car, chrome parts, or a custom paint job, you may want to obtain this additional coverage.
Insurance premiums typically depend on the type of motorcycle you own, where you live, where you store and ride your bike, how often you ride, and your driving record. Sport models that are built for speed often cost more to insure than cruisers. If you ride only during certain months, you may be able to save money with a lay-up policy option that suspends collision and liability coverage during off-season months.
Motorcycle insurance may be available as a separate policy or as a rider (endorsement) to your auto policy. Your insurance agent can help you determine the type and amount of coverage needed based on your personal situation and lifestyle.